June 11th, 2012 | by: Jack |

View Comments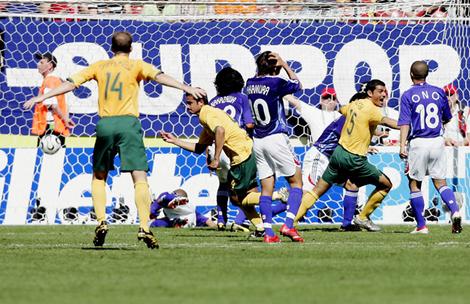 Talk about greater T.V revenue and marketing opportunities all you like, there is one reason Australia joined the Asian Football Confederacy, and it is for moments like this. Asia will get us to World Cup's more consistantly, and probably just as important for long term interest in our sacred sport is moments like these, hige games about huge rivals. Pre-2006 this could have been another fixture. But cue some laughable refereeing that day exactly 6 years ago, and then, unexpectedly, so dramatically and gloriously, the boot of Tim Cahill struck. That moment for the second goal when the ball struck one post, collided against the other and rolled in the net is one that will live with me and the rest of Australia forever. From it stems a blossoming rivalry in the international game, and one made more intense by the recent Asian Cup final, as well as the defection of promising A-League players to the more lucrative (and probably better) J-League. There is bitterness, but not hatred between us just yet. The Socceroos and Japan will do battle twice more in the near future, and one of these fixtures looms large.
I Can think of no better venue than Suncorp Stadium. As someone born in Melbourne, the Sporting Capital of Australia would also seem fitting, but the impressive Suncorp, while an equally fitting home to the wonderful sporting clubs Brisbane Broncos and Queensland Reds, is more importantly the home of Brisbane Roar. Doubts remain over their immediate future as title challengers after Postecolgue's departure, but the free flowing pass and move cultured game developed over the last few years does not draw huge crowds, nor will it see international recognition anytime soon. But it offers a yardstick, a measure of progress of quality football that seemed on the horizon, but the far horizon after the A-Leagues inception, shortly before the 2006 World Cup. The development of Soccer does not get the credit it deserves, and some aspects are rightly still panned by domestic and foreign critics alike.
Yet t The latest target of the media's beady eye is our fair Socceroos themselves, fresh off a turgid performance in Denmark, and a credible if not entirely satisfactory draw in sweltering Oman. Like always, doubts have emerged over the age of the team, and more worryingly, the quality or lack of it. Japan have it in spades. Kagawa, Honda, Lee, Nagatomo, Endo. Some experience in top quality leagues, and international silverware to boot. And for that reason will be favorites. Lucas Neill himself said he regards them as favorites, and Osieck is tight-lipped over any team matter. In all honesty all logic says we should fear for the tired, jet-lagged legs and the dimming of Tim Cahill so he is no longer guaranteed to start, and i fear he absence of someone with that bit of magic like Tommy Oar or Dario Vidosic. Tomorrow is no ordinary game, and it shows. Call me sad or deluded, but game-day is never to be feared, but to be embraced. Maybe I do not embrace every game. I miss the games taking place at some unearthly hour in a remote Asian country, and even turned off games halfway through. Yet when you play a team with the class of Japan, there is no doubt where i will be on match day, the image on my TV more a mental battle and challenge of endurance rather than entertainment, screaming and praying for a group of 11 men to pull together and  run about for 90 minutes. There is no chore in supporting a team, and it's amazing how deep you find your fandom runs when running scared of the team you are playing.
My point is this. The bitching and whining going on about the Socceroos should be put aside for a a moment, to witness a game of football that could decide our world cup qualification. Win, and it's hard to see any other team matching us, lose, and the qualifying spots are up for grabs for an Oman or a Bahrain (probably not Jordan) and the unthinkable thought of another World Cup without the Green and Gold, while remaining unlikely, seems possible. Japan will fight hard and fight skillfully. They have talent we simply don't appear to possess. But like that day in 2006, if the team binds together, the bounce favours us and someone hits the net again, the worries many have over the collapse of the Socceroos above the weary legs of washed up 30-somethings will be gone, and we can concentrate on going forward again. Japan are a team I personally relish us taking on, and provided the team does too, there's no reason why we can't win and light Suncorp up.
Hope for another hero, or even better, the same one.
Create your ultimate
Fantasy Premier League
team and play the
Fantasy Football
game from The Sun